Thursday, 30 July 2015 18:08    Written by  Mirjam Swanson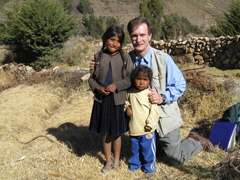 Will Moffitt has just returned from another faraway land.
It really doesn't matter when you might catch up with him — Moffitt almost certainly will have recently returned home to La Cañada Flintridge from an adventure in a remote location. Bolivia, say, or Cambodia, Costa Rica, Kenya, Madagascar, Nicaragua, Paraguay, Vietnam or … almost anywhere on planet Earth where he might put his innovative filmmaking chops to use for good.
You've seen the heart-wrenching, hard-to-watch, hard-to-shake infomercials of malnourished children in impoverished countries; you've heard the celebrity pitch for "just pennies a day" to dramatically improve a life.
"I am proud to be part of the group that started that, and everybody still uses it — it works," Moffitt said.
He was among the first wave of filmmakers to endeavor to produce such content, starting with an eight-week round the world gig with World Vision. The work expanded the Evangelical Christian humanitarian organization's scope significantly, Moffitt said, from a $1 million-per-year enterprise in the early 1970's that reached only a few developing countries to a $100-million-a-year venture that reached more than 35 countries by the mid-1970's. Lot's of this thanks to the TV shows Moffitt worked on. World Vision's revenue stream now is nearly $3 billion annually and has offices in over 100 countries around the world.
Moffitt also has produced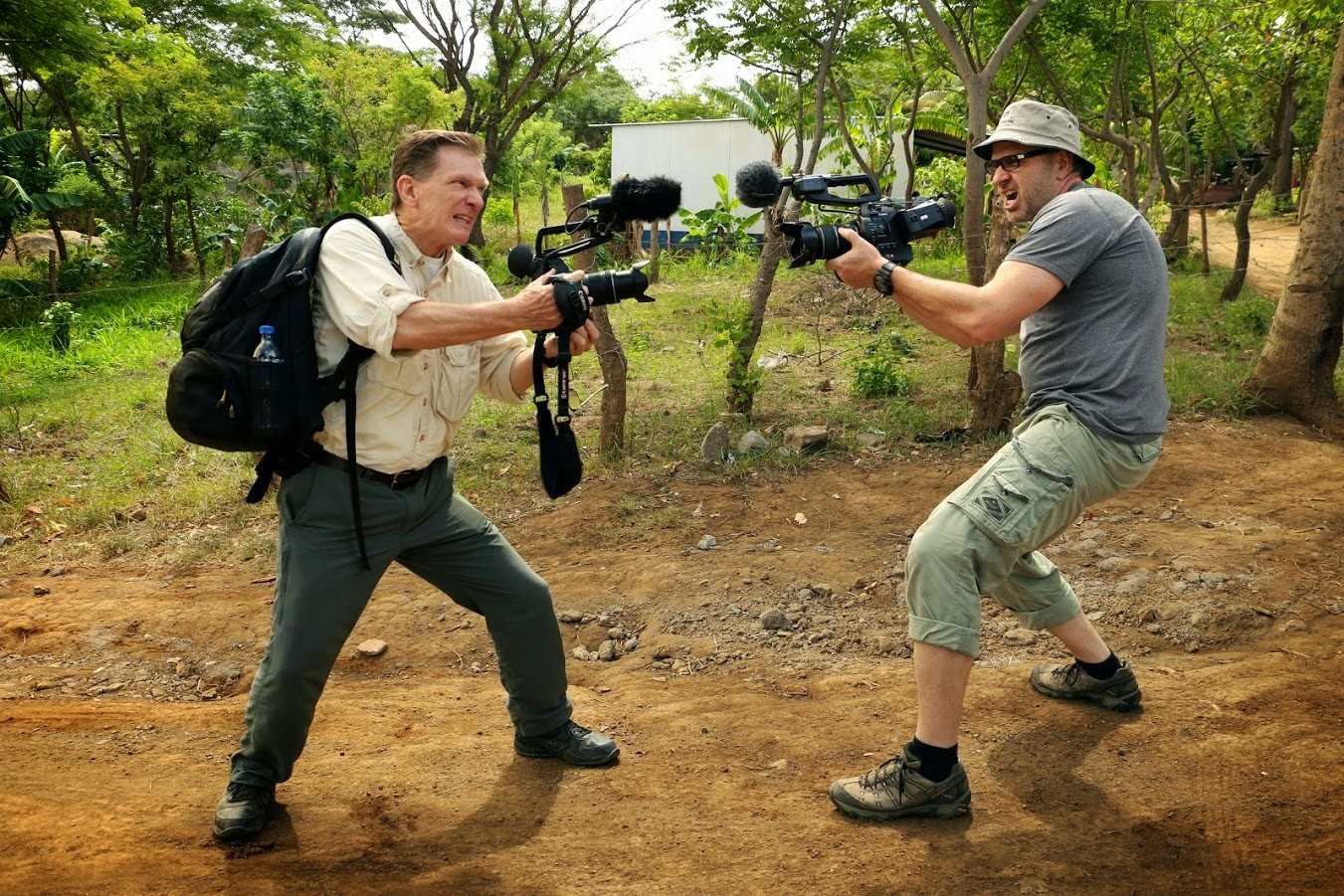 fundraising and awareness programs for Operation Smile, Compassion International, Feed the Children, Christian Appalacian Project, Prison Fellowship International, Mercy Ships and so many others, assignments that have sent him to six continents and hundreds of countries since he launched William Moffitt Associates in 1976.
He's guided A-list celebrities on many of these journeys, marveling at the fortitude and selflessness of some of them, such as Art Linkletter, Dale Evans, Harrison Ford, Matthew Fox, Roma Downey and Alex Trebek.
In the past year, Moffitt introduced "Survivor" producer Mark Burnett and his actress-producer wife, Roma Downey, to their sponsored child, accompanying them on a trip to Nicaragua on behalf of Compassion International. Over the past 10 years Moffitt has traveled with Roma to Vietnam, Honduras and Nicaragua for Operation Smile to spotlight their work.  A trip with them to the Philippines to promote Operation Smile was on the docket recently.
Sandwiched between Moffitt's duties for those major charitable organizations are TV and corporate gigs and lots of local volunteer service in the community where he and wife, Lynne, raised sons Harrison and Russell. Will Moffitt has served as president of the La Cañada Flintridge Educational Foundation, eight years on the La Cañada Unified School District Governing Board, founded the La Cañada High School Alumni Association and continues his work as chairman of the LCF Community Prevention Council. The council is a volunteer, nonprofit organization dedicated to combating illegal drug and alcohol use, substance abuse and family problems.
"He doesn't have kids in the community of schools any more, and he's still here helping," said Kim Beattie, who also participates in the Community Prevention Council. "He has a real passion for the health and wellness of our youth and families, and it's a real honor for him to be here, bringing his creativity, too."
Moffitt, the Director of Photography on the 1978 Oscar-winning documentary "Scared Straight!," has spent the majority of his professional life seeking to improve communities at home and abroad.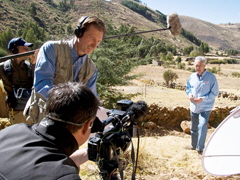 The son of parents who never hesitated to explore an unfamiliar dirt road or reach out to others, the nephew of a well-known naturalist and author, and a member of the Moffat Clan that produced Robert Moffat, the first European missionary to Africa (and David Livingstone's father-in-law), Moffitt has cut a career path that has delivered him a lifetime of hair-raising tales.
Take, for example, an expedition with a group of six that included a cameramen, a sound man, a linguist, some "schleppers" and Moffitt, exploring the far reaches of Papua, New Guinea.
"Like in the old pictures, we have a stick with our cases on it, and we're walking through the jungle, slashing, slashing, slashing, carrying lots of 16-millimeter, heavy filming equipment," Moffitt recalled. "One day, we broke through the jungle into a little clearing and we plopped our stuff down, exhausted."
"We were just sitting on our gear in this little clearing when, all of a sudden, out of the grass around us, these people rose up. They were only about 4 feet tall. … They had bamboo in their noses, feathers in their hair, bushes on their tushes — and stone axes and spears.
"And they went, 'Woop-woop! Woop-woop!' And we stood up and were back-to-back, just looking at them, scared to death, for what seemed like an interminable amount of time. And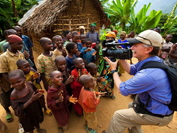 then the crowd parted and this little boy with a bunch of bananas came through. We said, 'That can't be a bad sign.'"
The boy presented the group with the offer of hospitality, their reward for having done the right thing by doing nothing.
"What we found out was that, had we fought them, which is what they were expecting, they would've loved to just slaughter us," Moffitt said. "If we had run, they would have loved to chase us and mow us down. But since we didn't do anything, because we just stood there, they thought we must have some strength they didn't know about."
In a sense, yes. They had mirrors and recording equipment, which gave the tribe — a cargo cult known, Moffitt said, for its cannibalistic rituals — a totally new impression of itself.
"We thought that they might be worried about us taking their photos — you know, a stealing-the-soul kind of thing — but they really weren't," Moffitt said. "We recorded music when they were singing and the next day we played it back and they gathered around the tape recorder and they were listening and pointing; they thought that was the coolest thing. By the time we left, they were convinced we were gods."
Moffitt said he declined to eat what appeared to be an offering of human flesh during that visit by passing the plate to the group's leader, but he can recount the instances in which he had little choice but to ingest monkey, guinea pig, various mystery meats and espresso with a dollop of rancid butter in a communal cup.
There was, along the way, an unexpected introduction to Mussolini's onetime bodyguard and an "Argo"-like escape from Entebbe Airport in Uganda.
Moffitt has haunting memories from that trip to Uganda, when he and his crew went "sloshing through inches of blood" in the dungeon of the presidential palace of Idi Amin in 1979, just hours after the brutal dictator had fled. Moffitt and his crew discovered 50 people caged in a space the size of a dining room, not far from where they also found the bodies of about 100 people who'd just been violently slain.
Moffitt said he also won't ever forget what he witnessed when he touched down in Rwanda in 1994, four days after the massacres there began: "Seeing thousands of bodies along the roads and in the churches there … you cannot get those images out of your mind."
It's taxing work, but it's always meaningful, Moffitt said.
"It's very emotional, it's always hard, but I'm fascinated with people, and how people live together or don't live together," Moffitt said. "I'm really interested in that, and I always have a feeling that by doing what I'm doing over there with these groups, that it's for a good cause, it's doing some good, and a lot of the time, I can see the benefit right there."
"If it's taking a kid and seeing him go to the doctor for the first time, it's wonderful being able to see that. Or a family that hadn't eaten in days getting food, or a village getting clean water when they've been forced to walk eight to 10 miles every day to get a bucket of water. You
live those things with them and you see the results, and it's really heartwarming."
"But a lot of times, from these trips, you come back and there's a culture shock. It takes sometimes weeks after some [trips] that are really traumatic."
And still, he recognizes there are traumas that need addressing at home, too.
"He's amazing," said Debra Kessler, a psychologist in LCF connected with the Community Prevention Council. "He's the absolute anchor of the CPC; his energy never seems to fade, and his dedication is remarkable."
"He's knowledgeable about not just how to get the right information out but how to coordinate people," local therapist Paul Royer said. "He bends over backward to provide service to the community. He would be the true definition of a renaissance man; his hands are in everything. Just an incredible human."